Refractive Lens Exchange, often called RLE, is one of the most popular LASIK alternatives in St. Louis, although it isn't unique to Missouri. This life-changing procedure often restores patients' vision to what it was in their 20s or 30s, and as an added bonus, it prevents cataracts.
So what exactly is refractive lens exchange?
To understand how RLE works, we have to begin with an understanding of the eye. In the front of the eye is the cornea. When people undergo LASIK, a laser is used to reshape the cornea.
In the back of the eye is the lens. As we age, our lenses lose their flexibility. When we are in our early to mid 40s, we begin to notice that our near vision and nighttime vision are no longer what they once were. The underlying condition is called "presbyopia," and it affects everyone.
The lens of the eye continues to age, losing flexibility and becoming discolored. Eventually, they develop an opaque cloud called a cataract. Like presbyopia, no one is exempt from cataracts. Some people get them earlier than others, but they affect us as we mature.
Traditionally, cataract surgery was the only answer. The process has improved in recent years, but cataract surgery is the process of replacing the clouded lens of the eye with a biocompatible artificial lens. There are two primary problems with this process: First, the lenses used are often not tailored specifically for each patient. Often, they correct the cataract but do not make vision crisp and clear. Second, insurance companies, particularly Medicare, do not cover cataract surgery until vision loss is extreme. That means that many people have to suffer with declining vision for years before they are able to get relief.
That brings us to RLE. RLE involves a process very similar to cataract surgery in that the aging lens is replaced with a biocompatible lens. The primary difference is that the lens replacement in RLE also corrects vision. In fact, many patients no longer need glasses or contacts afterward.
A second difference is that patients don't have to wait until cataracts fully develop to get RLE. That means they don't have to suffer through months or years of declining vision, and they can see and do the things they love.
RLE is a permanent solution, and as hundreds of St. Louis patients have shared, it is transformative.
The good news is that we don't need to suffer. Thanks to incredible advances in technology and science, Refractive Lens Exchange can not only resolve age-related, over-40 vision problems we develop over time, but we can prevent cataracts and see the world through clearer, better eyes.
To find out if RLE is an option for you, or if you'd like to know more about LASIK in St. Louis, call Brinton Vision at 314.375.2020 to schedule a comprehensive Brinton Vision Ocular Analysis, or click here to make an appointment online.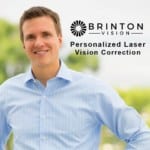 St. Louis LASIK surgeon Dr. Jason P. Brinton, MD is an internationally recognized specialist in the field of refractive surgery. He is a graduate of Harvard College, earned his medical doctorate from the Harvard Medical School, and is board certified by the American Board of Ophthalmology. He has been inducted to America's Top Ophthalmologists by the Consumer Research Council of America, Leading Physicians of the World by the International Association of Healthcare Professionals, and Top Doctors in America by Castle Connolly. In 2015, he received global recognition as the recipient of the Visian ICL Young Ophthalmologist Award in Barcelona, Spain, and in 2016 was named Ocular Surgery News' Premier Surgeon 300 Innovators in Refractive Cataract Surgery. In 2017, he was named in Top Doctors in St. Louis. He is a dedicated husband, father of four beautiful children, and is passionate about his life, his work, and service to others.