Contact lenses may be a step up from glasses in the heat of the summer, but there are some times when they're simply not convenient.
Let's face it: St. Louis is a hot, humid place to do May through August. There's nothing quite like the feeling of sinking into a swimming pool or whirring down a shade-filled bike path while the world around us swelters in the sun. At a time of year when all we want to do is shed the heaviness of winter fabrics, many of us are stuck with the burden of wearing contacts in the summer months. For those whose lenses are not the home-grown kind, there are some myths that need to be busted.
Myth: It's OK to wear contacts longer than their recommended time period.
Truth: No, it's not.
When we're traveling or otherwise on-the-go, it's easy to rationalize leaving contact lenses in for convenience. Despite the temptation, don't do it.
Lenses are only designed to last for a specified time period. If your lenses are supposed to last two weeks, don't wear them for three. If they're dailies, throw them away each night. Lenses wear out and become contaminated with bacteria. If they're left in, not only can they become irritating, but you risk sight-threatening infections and the potential for damage to your eyes. No amount of simplicity or time saved can justify a risk like that.
Myth: Contacts can be worn in the water if you don't plan on getting wet.
Truth: Even a little bit of water can cause big problems.
Have you ever been on a diet and been asked by friends to go out to dinner? Chances are, if you have, you probably bargained with yourself and promised you'd only have a bite or two — yet once the food was in front of you, it was impossible to avoid. Water is like that. If you get in it with contacts, it will find you, and it will stick to the places you want it least, like your eyes.
For contact wearers, any kind of water, including lakes, swimming pools, saunas, the ocean, or even showers, can result in serious irritation and sight-threatening infections. The struggle is real, and the risk isn't worth it.
Myth: Sleeping in contacts won't hurt much.
Truth: You snooze, you lose.
Even if you don't sleep in contacts very often, leaving them in overnight can cause seriously itchy eyes, infections, and even blindness.
In the summertime, even a cat nap while laying out in contacts can cause long-lasting problems. The risk of microbial keratitis, a corneal infection that can cause permanent blindness, increases any time you sleep with lenses in.
With just a minute or so of preparation, you can avoid a lot of irritation and pain. Make it a habit. You'll be glad you did.
Myth: The best way to soothe red eyes after a late summer night is to use "get the red out" eye drops.
Truth: Contact lens wearers who use these drops often make eyes worse in the long run.
Summertime in St. Louis means more time outside with friends and family. With that fun comes late nights and early mornings. Eyes can take a beating from sun and lack of rest, but the one thing you don't want to do is use an over-the-counter eyedrop that claims to "get the red out." These drops contain what is called a vasoconstrictor, meaning they make the tiny blood vessels in your eyes tighten up and become smaller. Initially, they seem to disappear, but they're not gone, and the drops can actually make the underlying problem worse. What's more, if you wear contacts, the likelihood of eye infections increases when you use these types of drops.
It's much better to address the underlying causes. If allergies are the issue, find drops designed for contact lenses, usually called rewetting drops or artificial tears. If it's just lack of rest, catch the proper zzz's as soon as possible and give your eyes, and your body, a much-needed break.
Myth: Once you've got your contact lenses, you're set for at least a couple of years.

Truth: An apple a day may keep the doctor away, but you still need to see your eye doctor once a year.
 When an optometrist writes a prescription for contacts or glasses, it's only good for one year. Vision can change, but more importantly, it's good to check annually for any underlying conditions that can cause bigger problems. Vision is too important to leave to chance, and a little preventative care can go a long way.
Here are more facts that can let you lose the contact lenses for good:
Contact lenses are a great solution for a lot of people, but they don't permanently solve the problem. The cost of contacts adds up through the year to somewhere around $600 for standard lenses, cases, and solution. Over a 10-year period, that's more than $6,000. Over a lifetime, that's a college education or more!
A more practical solution all around is often LASIK or other refractive procedures. If you are a good candidate, and many people are, you can have a permanent fix in 15 minutes.
For the best possible outcome, visit a medical doctor who is specially trained in refractive surgery and who is able to offer multiple options, depending on your unique situation. After all, there are over seven billion sets of eyes in the world. With today's technology, there is no one-size-fits-all solution. There are more than a handful of available laser and refractive surgeries that address specific issues. Chances are very good that there is one that is right for you.
Brinton Vision in St. Louis, Missouri offers seven different types of corrective procedures, including LASIK, SMILE, RLE, EVO ICL, Kamra, and ASA. These names may not sound familiar to you, but they're familiar to us. As a world-renowned ophthalmic surgeon, Dr. Jason Brinton is one of the only specialists in the United States trained and adept at using all seven available techniques.
Lose your contacts for good. Contact Brinton Vision to see how we can help you.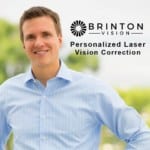 Brinton Vision
555 N. New Ballas Rd. #310
St. Louis, MO 63141
314-375-2020
brintonvision.com