Recently, a patient named Angie came into our office. She'd struggled with her vision for 40 years, and to Angie, we represented the last thread of hope that she had to be able to see the faces of her children and husband without being shackled by glasses or contacts.
Angie's vision was very poor. She knew she wasn't a good candidate for LASIK in St. Louis (or anywhere else for that matter) because her vision was so impaired. When she read the Snellen eye chart (those letters on the wall that we all associate with the eye doctor), her vision was 20/400+, which meant that her eyesight was worse than what the chart could measure. 
For Angie, it wasn't a numbers game. For as long as she could remember, her life has been impeded by glasses and contacts. She told me the story of how, when her daughters were younger, she would dress them in neon swimming suits when they went swimming. It wasn't to be fashionable; without her contacts or glasses, neither of which she could wear in the water, she couldn't tell which children were hers if they wore anything different.
EVO ICL can improve the vision of those that can't receive LASIK.
Several months ago, she and her husband decided to make laser vision correction a priority. They saved up and made an appointment with another St. Louis LASIK provider and made the three-hour drive from her southern Missouri home to come for their consult.
I could feel the excitement and hope Angie must have had that day of her first LASIK consult as she shared her story with me. Then I felt her heartbreak as told me how devastated she had been to learn that her corneas were too thin and her vision too impaired to undergo LASIK. Angie doesn't strike me as someone who cries easily, but tears streamed down her face that day as she climbed back into her car for the long ride home.
Angie left her eye doctor that day with new resolve. She was not content to take "no" for an answer. She got online and found Brinton Vision, then called to make her appointment. To her delight, after extensive testing, she learned that she was a candidate for EVO ICL, or implantable contact lenses. She made an appointment for her EVO ICL surgery that same week.
Angie's story is not unusual. Every week in St. Louis, I see would-be LASIK patients who have been told that they are not good candidates. These patients have done their homework and realized that LASIK is only one of seven refractive procedures available. Other options — ASA, LRI, Kamra inlay, RLE, EVO ICL, and SMILE — may, and often do work for them when LASIK does not.
The problem is that these procedures involve significant investment in training and equipment by the surgeons who perform them. That means they usually aren't available in those St. Louis LASIK centers that offer discount prices and coupons. It also means that many optometrists are not aware that there are options right here in St. Louis.
My personal philosophy is that my patients' vision is worth the investment. I followed in my grandfather's and my father's footsteps when I chose to go into ophthalmology, and was taught early on that, whatever I did with my life and my career, I have an obligation to do it with purpose, and to create a positive impact in people's lives. To that end, I've spent many years making sure I prepared to serve as best I could.
See which vision correction procedure
is best for your vision journey.
Patients often tell me that those efforts and those ideals are evident when they walk into Brinton Vision. I take great pride in being the only full-time, dedicated refractive surgeon in Missouri to have the equipment, expertise, and experience to perform LASIK and all six of its modern variations. At the same time, I'm humbled by the thought that the things my staff and I accomplish each day change lives in profound ways.
For Angie, EVO ICL surgery was, in her words, "life-changing." Within 15 minutes, years of struggling to see were replaced with nothing shy of sheer joy. She now has 20/16 vision without glasses or contacts.
I cannot find the words to adequately describe how elated she was in the moments afterward — or the feeling of deep fulfillment that her success gives me. I am inspired by ­­patients like her. Her journey to visual freedom has been hard-fought, and she refused to give up.
Purpose is the most effective force in the world, and smiles are the greatest reward. Stories like Angie's renew my passion for my career every day, and I am grateful for the opportunity to serve.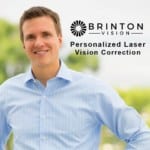 St. Louis LASIK surgeon Dr. Jason P. Brinton, MD is an internationally recognized specialist in the field of refractive surgery, and he loves an eye healthy diet. He is a graduate of Harvard College, earned his medical doctorate from the Harvard Medical School, and is board certified by the American Board of Ophthalmology. He has been inducted to America's Top Ophthalmologists by the Consumer Research Council of America, Leading Physicians of the World by the International Association of Healthcare Professionals, and Top Doctors in America by Castle Connolly. In 2015, he received global recognition as the recipient of the Visian ICL Young Ophthalmologist Award in Barcelona, Spain, and in 2016 was named Ocular Surgery News' Premier Surgeon 300 Innovators in Refractive Cataract Surgery. In 2017, he was named in Top Doctors in St. Louis. He is a dedicated husband, father of four beautiful children, and is passionate about his life, his work, and service to others.