We've talked a lot about healthy eyes being part of an overall healthful lifestyle. It seems we're all learning to be good to our bodies through exercise, rest, meditation, and diet. We invest our time, money, and energy into our fitness, our skin, and our overall peace of mind, and choosing food for healthy eyes is just another building block for wellness.
Having said that, tossing together this Best Ever Strawberry Spinach Salad feels more like a decadent splurge than a health-conscious decision. Even the kids will love this food for healthy eyes! As an added bonus, each bite is filled with antioxidants lutein and zeaxanthin, plus Vitamins C and E for a powerhouse punch against glaucoma, macular degeneration, and other harmful eye conditions.
At our house, we cook the chicken in a little bit of teriyaki sauce for a sweet, tangy addition. Put your own spin on it and tell us what you think!
Best Ever Strawberry Spinach Salad with Chicken
10 ounces fresh spinach, rinsed and dried
1 quart of strawberries, quartered
2 cups diced chicken, cooked
1 avocado, chopped
5 tablespoons slivered almonds
1/2 red onion, slivered
1/4 cup crumbled goat cheese, feta, or bleu cheese
Toss ingredients together in a large salad bowl. Refrigerate until ready to serve. Drizzle with Raspberry Balsamic Vinaigrette (below). Suggested Add Ins: Blueberries, blackberries, croutons, sunflower seeds, raisins, candied walnuts, bacon, or anything else you want to try!
Raspberry Balsamic Vinaigrette
1 cup fresh raspberries
1 tablespoon white sugar
2/3 cup balsamic vinegar
1/4 cup olive oil
1 tablespoon honey
1 teaspoon lemon juice
½ teaspoon salt
Pour raspberries and sugar in a bowl; set aside until mixture is juicy, about 10 minutes. Use a fork to mash the berries until liquefied. (For smoother dressing, use a blender or food processor). Add balsamic vinegar, olive oil, honey, and salt and mix well. Refrigerate until ready to use. Note: Feel free to substitute raspberries with strawberries, blueberries, blackberries, or a mixture of any berries.
If you would like to try a taste of life without the hassle of glasses or contacts, call us at 314.375.2020 to schedule a Brinton Vision Ocular Analysis, or schedule your appointment online by clicking here.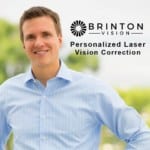 St. Louis LASIK surgeon Dr. Jason P. Brinton, MD is an internationally recognized specialist in the field of refractive surgery, and he loves an eye-healthy diet. He is a graduate of Harvard College, earned his medical doctorate from the Harvard Medical School, and is board certified by the American Board of Ophthalmology. He has been inducted to America's Top Ophthalmologists by the Consumer Research Council of America, Leading Physicians of the World by the International Association of Healthcare Professionals, and Top Doctors in America by Castle Connolly. In 2015, he received global recognition as the recipient of the Visian ICL Young Ophthalmologist Award in Barcelona, Spain, and in 2016 was named Ocular Surgery News' Premier Surgeon 300 Innovators in Refractive Cataract Surgery. He is a dedicated husband, father of four beautiful children, and is passionate about his life, his work, and service to others.
To schedule a comprehensive Brinton Vision Ocular Analysis to find out if you are a candidate for LASIK or any of its six modern variations, call us at 314.375.2020 or schedule your visit online.