When people visit us to find out about LASIK in St. Louis, one of the most common questions we are asked at Brinton Vision is What is the difference between LASIK and PRK? Both of these procedures are performed by some of the best LASIK surgeons in St. Louis and nationwide. They are both life-changing vision correction surgeries, but they are different in several ways.
What is LASIK?
When we refer to LASIK at Brinton Vision, we are talking about sub-Bowman keratomileusis (SBK), which is sometimes called bladeless LASIK. SBK is used to treat farsightedness (hyperopia), nearsightedness (myopia), presbyopia, and astigmatism. Other LASIK centers in St. Louis may be referring to earlier versions of LASIK that are still practiced throughout the United States.
See which vision correction procedure
is best for your vision journey.
In the SBK process, Dr. Brinton uses one of our two femtosecond lasers to create a carefully calculated flap in the cornea. Then he uses one of our two excimer lasers to reshape the cornea underneath the flap. Within seconds, the laser procedure is completed and the protective corneal flap is laid back into place.
The results of LASIK are typically predictable and the procedure is considered to be safe. Dr. Brinton has performed LASIK in St. Louis on thousands of patients, including photographers, professional athletes, artists, surgeons, and other eye doctors.
 What is PRK?
Photorefractive keratectomy (PRK) is a type of refractive surgery that reshapes the cornea using an excimer laser. It was the first type of laser vision correction surgery to be developed, and has evolved into newer versions through the years.
The main difference between ASA and LASIK is that unlike LASIK, ASA does not require creation of a flap in the top layer of corneal tissue. Instead, Dr. Brinton loosens and removes the thin layer of protective skin that covers the cornea. Then he uses one of our excimer lasers, the same lasers used in LASIK, to reshape the cornea to provide patients with better vision.
ASA is a permanent vision correction solution available for about 20 percent of patients who have special considerations, such as thin or irregular corneas, chronic dry eyes, high prescriptions, scarring from contact lens use or previous surgery, or who are in the military. It can be a good option for people who enjoy intense physical activities such as boxing or other contact sports, but who no longer want the inconvenience of glasses and contacts. For these patients, ASA is often the best option for their journey toward visual freedom.
ASA corrects nearsightedness, farsightedness, and astigmatism. It differs from LASIK and its other alternatives in that ASA recovery is not rapid and the eyes are uncomfortable during healing. The healing time for ASA is longer than that of LASIK (days rather than hours). Still, ASA typically provides excellent results when it is performed on the best candidates by the best ASA surgeons.
ASA is an effective procedural alternative to LASIK in St. Louis. Dr. Brinton has performed hundreds of these procedures across the country. He is one of the most experienced ASA surgeons in Missouri.
Are you ready to take the next
step in your vision journey?
If you are interested in LASIK in St. Louis, or would like to find out if you are a candidate for ASA, SBK, or any other laser vision correction procedure, call us at 314.375.2020. To schedule a comprehensive Brinton Vision Ocular Analysis, visit us online at https://www.brintonvision.com/schedule.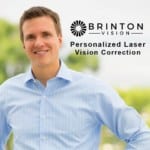 St. Louis LASIK surgeon Dr. Jason P. Brinton, MD is an internationally recognized specialist in the field of refractive surgery. He is a graduate of Harvard College, earned his medical doctorate from the Harvard Medical School, and is board certified by the American Board of Ophthalmology. He has been inducted to America's Top Ophthalmologists by the Consumer Research Council of America, Leading Physicians of the World by the International Association of Healthcare Professionals, and Top Doctors in America by Castle Connolly. In 2015, he received global recognition as the recipient of the Visian ICL Young Ophthalmologist Award in Barcelona, Spain, and in 2016 was named Ocular Surgery News' Premier Surgeon 300 Innovators in Refractive Cataract Surgery. In 2017, he was named in Top Doctors in St. Louis. He is a dedicated husband, father of four beautiful children, and is passionate about his life, his work, and service to others.