If you have been searching for LASIK in St. Louis, you may have heard of Kamra Inlay. This groundbreaking laser eye surgery are a new generation of vision correction developed to treat presbyopia, or over-40 vision.
Unlike LASIK, referred to as a "subtractive" technology, which removes a tiny portion of the cornea to change the way light refracts through it, Kamra is considered an "additive" technology. A tiny inlay, or biocompatible implant, is placed into a flap, called a "stroma," in the non-dominant eye. Though they are shaped differently, both implants assist your eyes to see things close up and in low-light situations.
What is the difference between vision with Kamra corneal inlays and monovision LASIK?
Kamra Inlays are similar to monovision LASIK in that, following the procedure, one eye is used for distance vision. The other, the non-dominant eye, is treated for near vision so that the patient can see print, phones, or computer screens without the assistance of reading glasses. That's about where the similarity ends.
In Kamra Inlay procedures, unlike monovision LASIK, the focusing power of the non-dominant eye is unaffected so that both eyes work together and remain useful for distance vision. This helps to preserve depth perception, which is useful for driving, playing sports, and many other daily activities. For most people, the brain is able to learn to adapt to using only one eye for near vision, but this is not always the case. If you are considering monovision LASIK or a corneal inlay, Dr. Brinton recommends you try a contact lens in one eye to simulate the results of your procedure and determine how well you tolerate the change in perception.
Will my eye look different or strange with Kamra Inlay?
Although the Kamra ring is pigmented, it too is not detectable either by you or by others looking at you in most cases. The exception, although not a significant one, is that Kamra Inlay is sometimes visible at an angle in people with light-colored eyes.
How long will it be before my vision improves? 
Kamra Inlays are different from LASIK in that it takes time for your brain to adapt to them. Typically, most patients see notable improvement within 24 to 48 hours. Optimal results are achieved one to three months following the procedure after the brain has gotten used to the change in near vision perception.
Are corneal inlays (Kamra) removable?
Kamra Inlays are removable. If, for some reason, either should need to be removed, studies show that vision typically returns to where it was prior to implantation.
What are the risks of corneal inlay?
The risks associated with corneal inlays are very low—similar to those of LASIK. Some risks are specific to certain patients. To discuss benefits and risks of LASIK in St. Louis or of Kamra Inlays, schedule your Brinton Vision Ocular Analysis online or call 314.375.2020.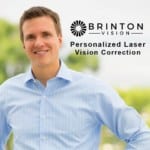 St. Louis LASIK surgeon Dr. Jason P. Brinton, MD is an internationally recognized specialist in the field of refractive surgery. He is a graduate of Harvard College, earned his medical doctorate from the Harvard Medical School, and is board certified by the American Board of Ophthalmology. He has been inducted to America's Top Ophthalmologists by the Consumer Research Council of America, Leading Physicians of the World by the International Association of Healthcare Professionals, and Top Doctors in America by Castle Connolly. In 2015, he received global recognition as the recipient of the Visian ICL Young Ophthalmologist Award in Barcelona, Spain, and in 2016 was named Ocular Surgery News' Premier Surgeon 300 Innovators in Refractive Cataract Surgery. In 2017, he was named in Top Doctors in St. Louis. He is a dedicated husband, father of four beautiful children, and is passionate about his life, his work, and service to others.